---

---
NC Divers Support

Matthew Johnston
Diving a Dream
Scuba Diving Dream

---
---
Topsail Island
SpearIt Dive Charters
---


OOOPS..DID I DO THAT...

Our hosting service had a bit of a glitch, sometime on Monday night,causing us to lose several days worth of post and users. If you registered, on our forum after Jan 19th, you will need to re-register. We appologize for the inconvienance.


NC DIVERS THIRD ANNIVERSARY DIVE
10/13/07
The day dawned cool and clear at Fantasy Lake Scuba Park (known as FL in the group) for the 20 or so divers that showed from North Carolina, Virginia, and West Virginia. Most got at least two dives in spite of all the Surface Interval talk, food tasting and general socializing. Divers ranged from a new member, with just three dives under his belt to …well, some folks that had stages growing from every D ring! There was even one diver that didn't blow any bubbles… go figure. Having divers from all over with every interest and skill level, getting together for some fun, food and foolishness, is what makes our group so much fun. Many thanks to all who provided the food – and more thanks to those who provided all the prizes. A drawing was held, and Brent's better half, Michelle, proved absolutely uncanny in drawing the right prize for the right diver!
Special Thanks To:
Rum Runner Dive Shop (DocWagner):- (2) $100 Gift certificates
Cape Fear Divers:- One dive charter up to $90
Sink or Swim Scuba (Brent): –Finger spool, 2 - Dive Rite Backup Lights
Capitol Scuba/DUI: 3 hats, 3 T-shirts, 3 slap straps, 1 duffle bag
Captain Bills(Poagie/Melissa): $40 Gift Certificate, 2 T shirts
Oceanic Explorers of NC(JayK): 2 DAN compass carabineers, 3 DAN luggage tags, 2 Aquatec whistles, Oceanic Explorers coaster, tank dust cap, octopus holder and padded mask case
Marci: reading material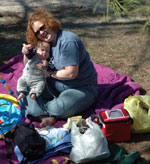 ---

with
Jill Heinerth
On September 14th 2007, Mother Nature was little less than Cooperative. A Tornado touched down less than one mile away. It rained, beyond cats and dogs and straight into rhino's!! But inside, a group of 30 of us were privileged to enjoy a very special evening with Jill Heinerth and her husband, Robert.
After an hour of social time and Carolina bar-b-q, we moved straight into the presentation section where Jill shared here adventures around the globe. From Florida Cave systems to Antarctic Ice Bergs, Jill's ability to deliver the memories of her experience (supported by stunning photos and video), was well received by all.

Thank You to Aquatic Safaris, Gypsy Divers, Cape Fear Divers, Divers Alert Network, and Capital Scuba for all the great prizes. Prizes ranged from Free Classes and Dive Charters, to a Scubapro Dive Computer and a Custom NC Divers O2 Analyzer. A big Thank You also goes out to Rob Bradish for putting together a great event, and all the NC Divers members that made donations and helped with the setup and teardown.. Of course we can't thank Jill Heinerth enough for the great presentation. Be sure to check out Jill's great Photos and Fine Art.
---

Swampfest and Lobster Dive 2007
Lobsters were snared and Grouper were slain. The Swampfest Lobster Dive, organized by Ken Rosemond, author of "Hiding on the Bottom" was a huge hit. Ken organized the event to help promoted his new book but had no idea that that it would grow into a major NC Divers gathering. Forum members from as far away as Ohio and W. Virgina showed up for the 2 wreck dive to the Cassimer and Normannia. The trip included a spot on the charter (run by Olympus Diving out of Morehead City), a copy of Ken's book, "Hiding on the Bottom" and a pass to the great Swampfest. At the after dive Swampfest, attendees were treated to Fresh Fried Flounder, Grilled Chicken and adult beverages followed by a fireworks display. A big thanks goes out to Olympus Dive Center for a great charter and to Ken for putting it all together. We can't wait for next year's party… Be sure to check out the reports and pics and the AWSOME Dive Video by our own Tom T.
---

NC Divers Explores the Deep:
at SHARKS 3D and Dive Expo


NC Divers and the underwater community joined forces, with Exploris, on March 3rd and 4th, to bring this exciting weekend to downtown Raleigh.

During the Course of the Two day event, NCDivers were able to represent the regional diving community with Flare!! With presentations from events over the last few years, and video by our own Tom Tilmon, our booth was clearly a highlight. 17 hours in the booth and 1300 visitors later it was clear that NCDivers were "in the know" with regard to diving in North Carolina

A special thanks goes out to the booth team: Bob P; Polly; Tom T; Xenia; Bobby; Marci; Charles; Casey. A big THANKS goes out the Rob Bradish for putting the it all together and running the booth.

We dive together, play together, and represent together, the things that are NCDivers!
Check out the Pictures from the booth.
---

2007 season, Let's get this Party Started
NC Divers 1st Group Dive, of the 2007 season, was a blast. 28 divers gathered at Fantasy Lake Scuba Park, on January 1st, to ring in the new year, eat and dive. The Weather could not stop this dedicated group of divers from "getting wet". The wind was blowing and the rain moved in and out all day but the air temps were in the 50s and in January, that means we're diving. This year we had several new members from all over the state splashing in for the dip in the chilly 54 deg waters. What better way to start out the new year, than diving and hanging out with old buddies and new friends.
---
2006 Dive Season, It's a Wrap
As we close out another Great Diving Season, The NC Divers group took some time to reflect on the great trips and gatherings of the 2006 season. During our annual Christmas Party, hosted by Bob "Packman" Patrick, Nearly 30 members flooded into Bob's home to enjoy Great food, Friendship and of course some great diving discussions. As you walked around the house you had no problem finding your "Topic of Choice" as people talked about Cave Diving, Rebreathers, Wreck Diving and weekly trips to the NC Quarries. Group trips for 2006 included a Week of Diving in the FL Keys, 2 trips to the N.FL caves, several trips to the NC Coast, Discovering the first "Cave" in NC and lots of Diving in the Local NC Quarries .A big Thank You goes out to Bob and Polly for hosting another great gathering. (looks like you get the vote for the 2007 host)
For a look at our 2006 Diving Season, Check out our
NC Divers 2006 Year in Review Video.

---
NC Divers 2 Year anniversary Dive "Was A Big Hit"
32 divers, from NC, WV, OH and VA, joined us, at Fantasy Lake Scuba Park , on Saturday Oct. 14th, to help celebrate the 2nd anniversary of the NC Divers "formation". The plan included a full day of Fun, Games, Prizes and, of course, Diving. The main event of the day was a Poker Run, put together by David , aka LandShark. Divers had to follow a set of clues to locate pre-defined places around the quarry. The 1st place prize, a 450' Salvo Reel, was donated by Brent from Hide Away Scuba. During the Poker Run, our resident chef, Bob (aka Packman) fired up the grill and cooked everyone Hamburgers and Hotdogs while Jeff (aka HarleyRiderNC) deep fried some Turkeys. After eating lots of food, tickets were passed out to everyone for the prize drawings. Prizes included a 1 day Dive Charter, T-shirts and Dive Flag License Plates donated by Aquatic Safaris out of Wilmington NC, Salvo Backup lights and other prizes, donated by Hide Away Scuba, as well as a Sea and Sea camera, Safety Sausage, Spool, T-shirts and several other prizes that were donated by our members. It was a great day of diving and meeting new and old friends. To see other reports from the days event, be sure to check out the Dive Report Forum and keep an eye of details on our New Years Day dive.
---
NC Divers get DAN
NC Divers has added a new sub-forum dedicated to the Divers Alert Network (DAN). This new forum is moderated by Donna Uguccioni a Diving Physiologist and Research Coordinator for DAN as well as an avid NC diver. The forum is designed as an interface to the Divers Alert Network for general questions and information. It is also a place to get up to date information on what DAN is working on. Donna will attempt to answer your questions or comments in a timely manner. This Forum is not intended to provide medical advice or treatment service.
---
NEW Dive Charter for Atlantic Beach
Capt. AL Vogt will begin running a 48' crew boat located on the Atlantic beach causeway, 1 block away from the Fisherman's Inn. The boat will carry up to 18 divers. Capt. Al has re-done the entire interior with new carpet & seating, installed a abundant fresh water system and put an nice canopy over the "dance floor" as well as retro fitted her with the best electronic's. If you want more information about chartering the boat please e-mail Capt. Al at CaptainALVogt@aol.com. or check out their web site www.atlanticbeachdiving.com
---
NC Divers, DIY O2 analyzer build

On June 18th, NC Divers convened at the home of Rob and Penny Bradish to enjoy an afternoon of Food, Drink, swimming and, most importantly, O2 analyzer building!!!



The final group count was approximately 20, including NC Divers members, significant others and kids. A big thanks goes out to Rob and Penny for hosting the event and Jason for putting it all together and teaching us how to build an O2 Analyzer.

---
Starting the 2006 season off with a bang
NC Divers 1st group get together, of the 2006 season, was a blast. 23 divers gathered at Fantasy Lake Scuba Park, on April 9th, to meet, eat and dive. We started the day with a warm up dive followed by an underwater Poker Run and then more diving. At great time was had by all and we are looking forward to the next get together. Be sure to check out the pictures in the Divers Photo Gallery
---
NC DIVERS is a group formed in October, 2004 by residents of North Carolina, to encourage scuba diving in and around North Carolina. We pride ourselves on our " scuba diving get-togethers" where divers of all skill levels and ages may come and enjoy "gettin wet" - and maybe some great burgers and dogs!
Our diving is extremely varied and includes the ship wrecks of NC, NC lakes, quarries, the Springs of FL. Our dives and get-togethers take us all over the South Atlantic States . Trip reports, from our dives, range from the FL Keys to Honduras and the Pacific!

Check out our Diver location map to see if there is a Dive Buddy in your area.

We are always adding and updating information on NC Dive Charters, Diving information for NC quarries and Local Dive Shops. An active Divers discussion forum is included, as well as links and articles on the general subject of scuba diving and marine life. Enjoy your visit, and we encourage you to register and become a member!




Thanks for joining us at ,

---

---
---
---
---
Dive Reports / NC Coast

---
Group Dive /Get Togethers

---
---